Going through the worst of situations is hard. It still gets harder when you go through it alone and when you feel unloved. Perhaps, the tough times take you through an illusion that no one loves you, that there is no shoulder to lean on and no friends who care. For a few among you, the situation is still worse. It's not just an illusion but a fact that your own dear ones have left you alone. But the good news is, no matter what situation you are in, you still have someone who waits with loving arms to carry you through, to hear you speak, to love you, to comfort you and be there for you always. He is none other than the God who created you with such meticulous craftsmanship, taking utmost care. He is the one who carefully knitted you together in your mother's womb. Unlike the love of this world, His love is unconditional and everlasting.
God's Love
When a mother extends such love over her child and a father such immense care, how much greater must be the care of Him who is the source of life? When a hungry child comes running to his father and asks him for bread, would he give him a stone? Or, if the child asks for a fish, would he give him a snake? If an earthly father with human shortcomings loves you so much ever since your birth, how much more is the love of the heavenly Father who knew you even before you were born! You might have not heard Him speak or felt His love. But that isn't necessarily a reason to deny His love. It is just because you never opened your heart to Him before. Still not convinced? Are you thinking, "Even if there is a God who created me, He didn't go through the pains I undergo? It is impossible for Him to understand my emotions?" Well, He came down to earth to live a life as you and I do. He suffered through humiliations, treachery, mockery, embarrassment and hatred. He even loved the people who subjected Him to such distress. He underwent every single emotion, experienced your pain and also extended His sacrificial love by laying down His life. His unconditional love for you made Him die for you. He came to give you life in its abundance. He is always with you and will never let you down.
Who is He?
He is Jesus Christ, the Son of God. "He is the image of the invisible God, the firstborn of all creation. For by him all things were created, in heaven and on earth, visible and invisible, whether thrones or dominions or rulers or authorities all things were created through him and for him." (Colossians 1:15-16) "For God so loved the world that He gave His only begotten Son, that whoever believes in Him should not perish but have everlasting life." (John 3:16) God Himself testified of Him from heaven, saying, "This is My beloved Son, in whom I am well pleased." (Matthew 3:17) Two thousand years ago, an angel appeared to a virgin named Mary and said to her, "And behold, you will conceive in your womb and bear a son, and you shall call his name Jesus." (Luke 1:31) And Mary said to the angel, "How will this be, since I am a virgin?" And the angel answered her, "The Holy Spirit will come upon you, and the power of the Most High will overshadow you; therefore the child to be born will be called holy the Son of God." (Luke 1:34-35) The birth of Jesus is unique in this regard. As promised by God, she gave birth to a Son and named Him Jesus, who was, is and will be the Saviour of the world.
Life and Teachings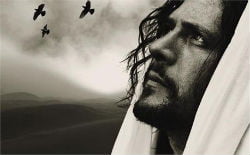 At the age of 30, Jesus started doing the ministry appointed to Him by God the Father. He preached the good news, healed the sick and even raised the dead. "Jesus went throughout all the cities and villages, teaching in their synagogues and proclaiming the gospel of the kingdom and healing every disease and every affliction." (Matthew 9:35) His teachings were so unique and full of authority. "Love your enemies, bless those who curse you, do good to those who hate you, and pray for those who spitefully use you and persecute you." (Matthew 5:44) Since many people started following Jesus, the rulers and the religious authorities became envious of Him. They planned to get rid of Him. However, Jesus Himself foretold His death saying, "The Son of Man must suffer many things and be rejected by the elders and chief priests and scribes, and be killed, and on the third day be raised." (Luke 9:22)
Death and Resurrection
Jesus was finally arrested and His accusers looked for false evidence against Jesus so that they could put him to death. But they could not prove the accusations made against Him, though many false witnesses came forward. At last, they accused him of calling Himself the Son of God and He was sentenced to death by the Roman Governor. Jesus had the power to deliver Himself. But He chose to die so that we might live. He bore our sins in His own body on the cross, so that we could be forgiven. "He was pierced for our transgressions; he was crushed for our iniquities; upon him was the chastisement that brought us peace, and with his wounds we are healed." (Isaiah 53:5) He suffered and died on the cross. His body was wrapped and was buried in a tomb. On the third day He rose from the dead as He had foretold. He was seen by many of His disciples after His resurrection and He went up to heaven to be with the Father at the appointed time.
Repent and Believe
All of us have sinned against God and deserve the punishment of everlasting death in hell. The death of Jesus is the ultimate penalty for the sins of the whole of mankind. Jesus is the only way to heaven. He says, "I am the way, and the truth, and the life. No one comes to the Father except through me. (John 14:6) You need to trust Him alone for your salvation. "And there is salvation in no one else, for there is no other name under heaven given among men by which we must be saved." (Acts 4:12) Salvation is offered by God as a gift and you can receive it through faith. Jesus has already paid for it on the cross. You don't contribute anything to your salvation. But you need to admit that you are a sinner, repent and believe in Jesus Christ for the forgiveness of your sins. "If you confess with your mouth that Jesus is Lord and believe in your heart that God raised him from the dead, you will be saved." (Romans 10:9)
Are you willing to repent and believe in Jesus Christ as your Lord and Saviour?